Achilles Podiatry of Carmel – 11911 N. Meridian, Suite 128 Carmel, IN 46032 Phone (317) 927-7000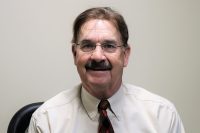 Dr. Anthony Miller was born and raised in northern Indiana. He graduated from Garrett High School, where he was a 4 sport all state athlete. He attended the University of Florida on a basketball scholarship and received All American Honors before graduating with a degree in Chemistry in 1974. He then attended the Illinois College of Podiatric Medicine and graduated in 1978.
He initiated his surgical residency at the University of Chicago Department Of Orthopedics and finished at Westview Hospital in Indianapolis.
Dr. Miller is Board Certified by the American Board of Podiatric Surgery in Fore-foot/Rear-foot/Ankle surgery. He is a fellow of the American College of Foot and Ankle Surgeons and is also a member of the American College of Podiatric Sports Medicine.
Over the years, Dr. Miller has been very active in teaching and has served as director of residency programs at Westview Hospital and Winona Hospital in Indianapolis, Indiana. He is the former Director of Podiatric Medical Education and Surgical Services at St. Vincent Hospital. He also was the founding Residency Director at St. Vincent for the Foot & Ankle Surgical Training Program.
He is married and lives in Carmel, Indiana where he practices medicine full time and coaches and participates in numerous youth sport activities throughout central Indiana.