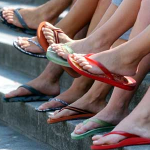 Flip-flops have become a staple of summer apparel, and for good reason. No one can deny the carefree feeling of enjoying the warm weather in your summer flip-flops.  Many times these flip flops can also damage your feet.  There are many different types of flip flops make sure that you have one that will not cause you pain or injury.
Flip-flops with good heel and arch support, for one. For two, flip-flops made of materials that bend, but not too much. Also not wearing flip-flops when you do activities that could be hazardous to your toes (such as hiking) and also not wearing flip-flops for long walks, when sneakers would provide you much better support.  When choosing a shoe, if open toes are a must, please avoid the flimsy, cheap flip-flops.  Look for sandals that have support to them and an indented heel cup.  Straps to the sandals which can be tightened can also increase stability in the sandal as you walk.
Flip-flops can also increase the symptoms and pain of plantar fasciitis.  Due to the lack of support and stability there is an increase in stress and strain on the plantar fascia.  This lack of support to the feet also increases the risk of ankle injuries such as sprains and fractures.